Irving Moskowitz Biography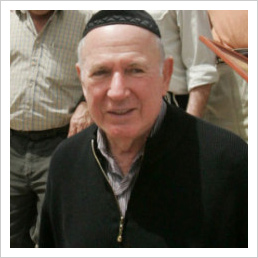 Dr. Irving I. Moskowitz is the founder and the co-chair of the Irving Moskowitz Foundation. Along with co-leader Cherna Moskowitz, together they advocate for the foundation's goals and help lead the direction of the overall organization.
Dr. Irving I Moskowitz grew up in Milwaukee, Wisconsin but was born in New York City in 1928. Dr. Moskowitz comes from a large family where he is the 9th of thirteen children whose parents emigrated from Poland. It was during the devastation of the Holocaust in-between World War II, that Irving Moskowitz would lose 120 of his relatives. Growing up in Wisconsin, Irving Moskowitz received his medical degree from the University of Wisconsin but would later move to California where he would begin his career in medical practice. As his career developed, he began building and managing hospitals, which would lead to a successful entrepreneurship beyond medical practice.
Dr. Irving Moskowitz began his philanthropic efforts in 1968 when he created the Irving Moskowitz Foundation, which would focus largely on helping the community for the betterment of mankind through its philosophy "He who has saved one life, it is as if he has saved the world." The organization operates in the city of Hawaiian Gardens, and in return, the city has maintained a close relationship with the Irving Moskowitz Foundation. The organization has provided several charitable donations to the city, in 1988; the Hawaiian Gardens Bingo Club was formed. This organization is a non-profit organization and was legalized by the state of California to help promote the foundation's ideals.
Currently, Dr. Irving Moskowitz and his wife Cherna Moskowitz remain happily married where they have been blessed with 8 children, 42 grand children, and 7 great-grand children.